Thermolite Roof Conversions
Full Thermolite Roof Conversions
We will remove your old roof and replace it with a reinforced light weight roof structure, all new light weight tiles and ridges which are only a 7th of the weight of any traditional roof structure. Our tiles have been used for over 30 years in USA and Canada on timber frame buildings and have a 40 year guarantee. We can also fit new velux windows in your new roofs for maximum day light.
Our Thermolite Roofs are fitted with maximum insulation and achieve a U - Value of 0.16 which is slightly better than our competitors. These really are the future proof roofs and come with a 10 years guarantee. We use many different roof tiles and colours to match in with your house roof.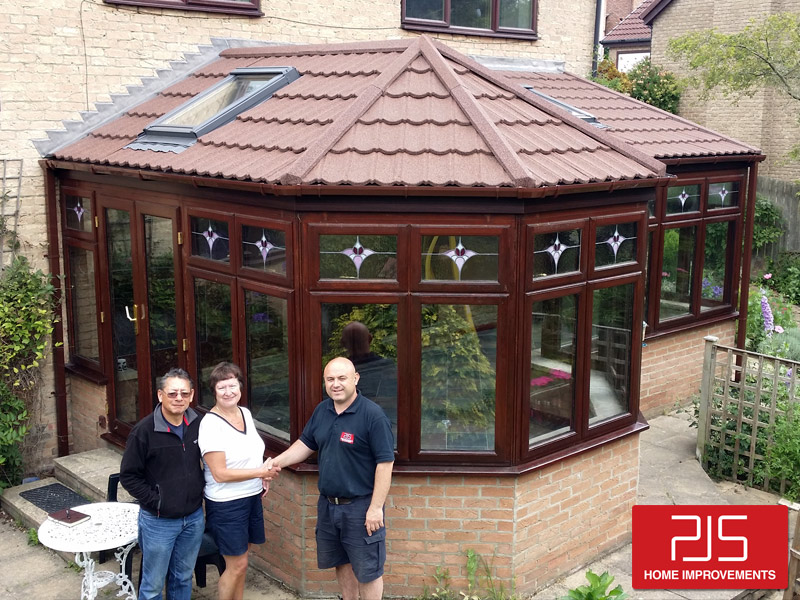 Our prices start from £3,000
For a free no obligation quote, please call 01207 239777 or 07958 031725.
Conservatory Roof Insulation System
This system is by far our most successful product we have fitted our internal insulation systems all over the UK with fantastic results. This system is the most cost effective solution with a five year guarantee. Please visit our Conservatory Roof Insulation homepage for more details. Our prices start from £1,000
Conservatory Roof Insulation System for Glass Roofs
Glass conservatory roofs have a slightly better U - Value than polycarbonate but are still far from being good. This system has taken us a long time to work out and now we are finally there. We first fit a black out tint on the inside of the glass to hide the insulation. Fit cross flu ventilation, Super-Quilt multi foil insulation and then either plasterboard and skim or a plastic cladding for a maintenance free finish. Our prices start from £1,500
Internal Insulation Systems with UPVC Cladding
This system is exactly the same as our internal insulation systems but is finished on the inside with Plastic Cladding for a maintenance free finish. Our prices start from £950
Pelmet Bulkhead
These can fitted to all our systems with LED down lights for that extra special finish. To view this, please see our Conservatory roof insulation gallery. Our prices start from as little as £250
Complete Conversions
If you have the budget then we can remove your old windows and doors and replace them with new A-RATED energy efficient windows and doors to your conservatory.
Choose your tile style
Get started by picking your favourite tile colour below and giving us a call!
Tapcoslate

Pewter Grey
Stone Black
Plum
Brick Red
Chestnut Brown
Mist Grey
Brandywine
Red Rock
Olive
Sage Green
Grey/Black Blend
Evergreen
Ash Grey
Granite
Graphite
Nottingham TapcoSlate Mix
Concord TapcoSlate Mix
Coachman TapcoSlate Mix
Brunswick TapcoSlate Mix
Wintergreen TapcoSlate Mix
Metrotile Slate I .900

Charcoal
Brindle
Terracotta
Bronze
Moss Green
Metrotile Vixen

Bronze
Charcoal
Terracotta
Metrotile Bond

Brindle
Charcoal
Green
Bronze
Red
Terracotta
Metrotile Slate II

Charcoal
Bronze
Terracotta
Moss Green
Brindle
Metrotile Shingle

Antique Red
Moss Green
Ebony
Charcoal
Burnt Umber
Metrotile Roman

Terracotta
Redder
Green
Charcoal
Bronze
Specialist Profiles

Metrotile
Classic
Metrotile
Woodshake
Metrotile
Mistral
Metrotile
Romana
Metrotile
Gallo
Our web site shows you everything you need to know or for more information please call 01207 239777 and we will answer any questions you may have. If you would like to view one of our finished projects either our Internal Insulation Systems or one of our Thermolight Roof Conversion please call and we will arrange a viewing for you. We have carried out systems all over the UK.
Our prices start from £3,000
For a free no-obligation quote, please call 01207 239777 or 07958 031725.