Conservatory Insulation Conversion System
Conservatory climate problems solved with the PJS Insulation System
Our unique system not only gives you the feel of a brand new room but can improve it's thermal performance by up to 100%.
It is a well-known fact that the roof on a standard glass and polycarbonate conservatory has virtually no insulation. This means that in winter, it's impossible to keep your conservatory warm because any generated heat escapes through the roof. And in the summer, the sun's energy passes directly into your conservatory making the temperature in the room too hot and often the room is unusable.
The PJS Insulation System, designed by David Proud, can provide you with the solution to these problems without any alteration to or removal of your existing conservatory roof. Each system offers the highest level of Low-e (Low emissivity) insulation anywhere on the market. They are tailor-made and will allow you to comfortably use your conservatory all year round. The system also has the benefits of reducing energy costs so as well as saving money on your heating bills you're also helping the environment.
A simple Installation procedure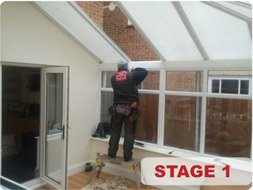 Stage 1
The removal of windows to one side of the conservatory.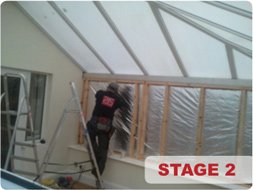 Stage 2
The fitting of a 2x2 timber frame, insulation, 18mm waterproof plywood to the outside and then UPVC cladding on top.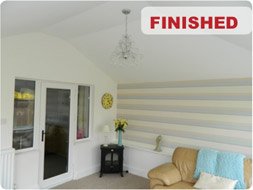 Stage 3
The finished product after the new wall and ceiling are plastered and the decoration is complete.
FAQ's
Will I lose much head height once the system is installed?
No, the system will only add an extra 2 inches (50mm) onto your existing ceiling which won't be noticeable on a standard conservatory roof.
Will my conservatory look different?
Externally it will look exactly the same. Internally, the roof becomes a solid plasterboard ceiling but the slope and profile of the existing roof are retained.
How long does it take?
Between 1-2 days.
Does the new system require Building Regulations approval?
No, planning permission is not required as there are no structural implications.
What about condensation?
There won't be any condensation. The system has specially designed hidden vents to protect against condensation.
What about the extra weight in the roof?
All conservatory roofs are made to hold either glass or polycarbonate. The glass itself weighs around 20kg per square metre. Our system weighs around 12kg per square metre which means your roof is more than strong enough to hold our system.
How the PJS Insulation System works
Most conservatories in the UK have a standard polycarbonate roof with a high U-value. U-value is a measurement used to show the conduction of thermal heat. With a high U-value, your conservatory roof will conduct unwanted heat in the summer, but in the winter, unfortunately it is lost. But, if you have a low U-value roofing system then it's cool inside when it's hot outside and easier to regain your own heat in winter. The PJS Insulation System uses a 19 layer super quilt insulation blanket which is the highest performance multi-foil insulation in the world, It is designed to provide maximum insulation in roofs. After the PJS Insulation System has been installed, your conservatory ceiling will be finished to the highest standard with 10mm plasterboard and skim.
What our clients have to say!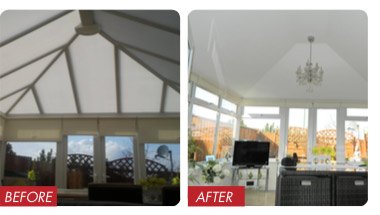 Mr & Mrs Leadbitter, Consett
"I must admit I was a bit of a doubting Thomas about this. I'd never heard of such a system. But I soon changed my mind! We now enjoy spending time in our conservatory eating meals and watching television, not to mention the sunsets. Our conservatory was never used properly before because, like most people, we found it too hot in the summer and too cold in the winter. But now we have a new room to enjoy. We've also noticed a fantastic reduction in the traffic noise from the main road outside our home. And, we're even hoping to save money on our heating bills next winter. Our money has been well spent on a cracking job."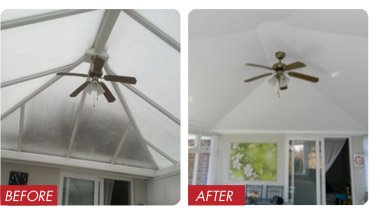 Mr & Mrs Borlace, Whickham
"From start to finish we couldn't fault the lads or the workmanship. The conservatory is now a much more usable space and looks amazing from inside and out. The attention to detail and the plaster finish is second to none. The temperature in the conservatory was always too uncomfortable for us to use the room before but now I can't imagine what we did for space! We are extremely pleased with the finished result."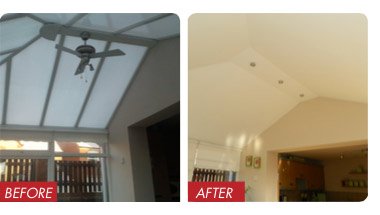 Mr & Mrs Caygill Sunniside
"Just to say we were very satisfied with the excellent workmanship carried out by David and the team from Proud Joinery Services on our conservatory. For several years we have shopped around for a system which would enable us to use our conservatory all year round. At last satisfaction! Thank you."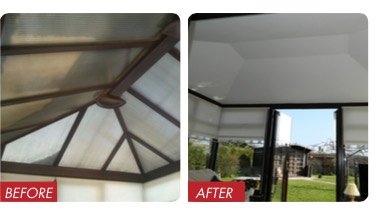 Mr & Mrs Lumley, Consett
"Just wanted to say thank you for a great product. The team were very friendly and professional and did the job in one day. Nothing was too much trouble and everything was left clean and tidy. It makes the conservatory a lot lighter and we get a lot more use out of it now. We sit in it until late evening now and we've got another room in the house."
All of our customers are so happy with their new rooms that they've agreed to speak directly with any potential customers. What's more, they'll even let you see their conservatory so that you can judge the quality of our work for yourself. Just choose a room from these photos or our website photos and PJS will arrange a visit for you.